Blackberry Smoke 2021 photos:
Headline show at Rock, Ribs, and Ridges; headline show at the Hartford Healthcare Ampitheatre in Bridgeport, CT.; special guest slot supporting 3 Doors Down at the Hartford Healthcare Ampitheatre in Bridgeport, CT.
2021 Rock, Ribs and Ridges Festival Photos:
Check out Powerplay Magazine issue #241. I wrote a two-page feature on 'The New Breed of Southern Rock'. It introduces eight great new killer southern rock bands: Copperhead County from The Netherlands, Louisiana Swamp Donky from Louisiana, Ole Whiskey Revival also from Louisiana, The Outlaw Orchestra from the UK, Sam Hill Band from the great city of Jacksonville, Sons of Liberty also from England, Southern Rebellion from Tennessee, and finally Tennessee Champagne also from Tennessee. You can order the magazine from the website: http://www.powerplaymagazine.co.uk or email them at info@powerplaymagazine.co.uk
Blackberry Smoke's 'You Hear Georgia' is out on May 28!
BBS states: 'Humbled by the words of Tony Pijar in the May issue of Powerplay Rock and Metal Magazine. 10/10 for #YouHearGeorgia!! You'll have to pick up a copy for the full review, and you can listen for yourself May 21st!'
All fans of southern rock, and good music in general, should already know about Kudzoo Magazine and its creator Michael Buffalo Smith – 'The Ambassador of Southern Rock'! Visit http://www.michaelbuffalo.net to check out the great Kudzoo Magazine. In addition, Michael is the author of several excellent books about southern rock, all of which are 'must-reads' for fans of the genre!
Sons of Liberty – 'Aces & Eights'
Finally, the new album by UK southern rock band Sons of Liberty. It is, without doubt, their best yet! Any band who writes a song about the great Ruby Starr (RIP) is ok in my book! The 12 tracks move easily from the Molly Hatchet-like hard rockers to the more outlaw country cuts. Along with 'Ruby Starr, the best songs are the killer 'Beef Jerky Boogie', 'Fire and Gasoline' 'Black Buzzard' and 'Whiskey is my Vaccine'. Fred Hale's guitar work is amazing; sounds like he was born and raised in Jacksonville, FLA! It's only a matter of time before these guys are playing arenas around the world!
Mo' Peaches – 'Southern Rock that Time Forgot'
This southern rock compilation took its cues from Capricorn's 'Peaches' collection from 1974. It had the likes of Richard Betts, Wet Willie, Elvin Bishop, Marshall Tucker band, The Allman Brothers, and Grinderswitch on it. This one, like the first is a bit hit and miss. Of the 12 tracks herein, the best are from Alligator Stew, the great Judge Parker, Morrison Brothers Band, The Remus Tucker Band and one of the absolute best southern rock groups ever in Eat a Peach. That alone makes this album a worthy purchase. There are, however, some clunkers; Bishop Black, Chase Walker band, Railbenders, and Alligator Jackson just don't measure up.
Lynyrd Skynyrd – 'White Knuckle Ride'
This obscure Skynyrd single comes from the 'NASCAR: Hotter than Asphalt' compilation. Truthfully, this comp is steeped in old-school country, with Skynyrd the only true southern rock group present. Rather than waste your money on the album, I'd seek out the Skynyrd single instead. This song ranks up there with the classics and deserves to be heard, as it surely is hotter than asphalt on a hot Georgian day!
Travis Moon Band – 'Big Train Rollin'
The Travis Moon Band only released one album (1983's 'Big Train Rollin') and it's a fantastic ride. It's another case of a great southern rock band just missing the boat. Had they released this record between 1974-79, it would have been well-received. It has elements of Skynyrd, the Allman Brothers, the Marshall Tucker Band, Little Feat, and others. The title cut is five and a half minutes of southern greatness, akin to a train rolling down the tracks, if you will! 'Louisiana Lady' is pure Little Feat and LeRoux with swagger. 'Move it on' is another up-tempo cut with some awesome female background vocals, searing leads and nice piano fills. Want some Allmans? Look no further than 'The one in the Middle'. It's got some great boogie piano, killer slide playing and that archetypal Allman's rhythm groove. 'Georgia Train' is a heavier number with a cool, choppy riff, while 'She's Gone' and 'Sail Away' are more aligned with the breezy sounds of Sea Level. the swinging 'Do what you gotta do' brings to mind the criminally underrated Pot Liquor with some amazing piano playing at the fore. 'Roza Lee' closes up this excellent album with yet another rollicking piece. If you're a fan of southern rock, you need to pick this one up asap! You won't be disappointed!
Elvin Bishop – 'Let it Flow'
What we have here is a long-lost classic! Nowadays, Elvin is more of a blues guy, but back in the 70s he was pure country/southern rock. All of his Capricorn releases are pure gold, but I'd say 'Let it Flow' remains his best. It has all of the tangible and intangible elements that make it a great southern rock release; Bishop's innate ability to deliver that classic southern sound, both laid back and rocking. You've got some great slide, upbeat background female vocals (especially on 'Let it Flow' and 'Sunshine Special'), and a rhythm that reminds me of one of those southern summers on the lake. There's a couple dips herein though with, for example, Bishop's cover of 'Hey Good Lookin' – not up to his high standards. 'Fishin' isn't that good either. But all in all, 'Let it Flow' is a forgotten classic!
The Steel Woods – 'All of your Stones'.
'All of your Stones' is the newest release from The Steel Woods and is a mostly melancholy record. 'You're Cold' is the only up-tempo piece and it's really good with some cool telecaster picking throughout. 'Out of the Blue' reminds me of Skynyrd in that it's what I'd call heavy country. The remainder of the cuts are aligned with old-school country with a contemporary take. Again, most of the tracks are laid back and lyrically thought-provoking. There's nothing as cool as their cover of Sabbath's 'Hole in the Sky', (on the 'Straw in the Wind' record) but if you like your music on the country side, then I'd pick this up.
Georgia Shine Band – 'Evil'
'Evil', the band's new album, is better than their previous outputs; the self-titled debut and 'Quicksand'. It's more of the same great Georgian southern rock done right with rockers like 'Pickets Mill', 'Second Amendment', 'Right where I Belong', and 'Down and Dirty' sitting comfortably alongside mellower, acoustically-based tunes such as 'Where does it go from Here', 'My Grandson', and 'In the End'. Doug Southern's voice is as gravelly as the the backwoods roads on which the band surely travels. His guitar playing is just as gritty. Georgia Shine Band can box the ears, but can also deliver heart-wrenching southern ballads with the same ease. While every cut is good, the hands-down winner is the boogie-tastic 'Six Feet Under'. This is a group that demands your support! Go to their website (thegeorgiashineband.com) to purchase their albums.
Big Pine Band – 'Selfrich'
Florida's The Big Pine Band specialize in music that straddles the Allman Brothers/Marshall Tucker Band/The Outlaws fence. Some of the songs are somewhat laid-back with a cool southern groove; the kind of music one listens to while fishing on a calm lake as the sun rises over the hills. On the other hand, they can rock it up with the likes of 'That's the way she Moves', 'Suffered so Long', the almost funky 'Bullseye', and 'Set up'. They border on jam with the lazy instrumental 'Long way from there'. A really good debut from another excellent Floridan band!
Black River Sons – 'Poison Stuff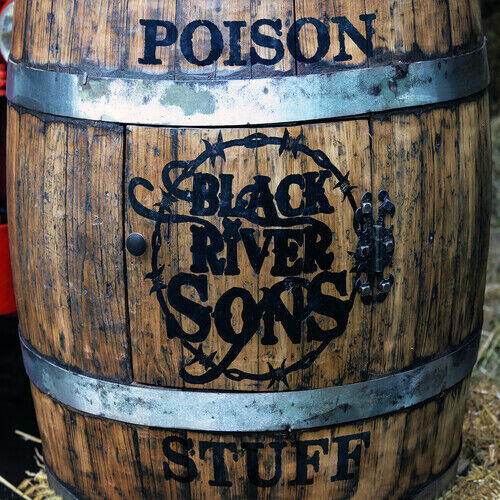 Another great band out of France! These guys may be from France, but they approach their brand of southern rock like they're from Jacksonville, Fla! They've got some vintage Blackfoot flowing through their veins. 'Spill your Guts' is hard southern rock with some excellent slide playing. 'Born Again' stomps about, but is hummable and slightly commercial, while the title track is a pure classic in the making. I love the guitar playing herein; sounds like a long-lost Skynyrd piece – easily one of the best southern songs I've heard in a long while! Want some Molly Hatchet? Check out the blistering 'Loaded Gun'. 'I Remember' is a true southern ballad that, again, brings to mind a more solemn Blackfoot, while 'Messin' Around' sees the guitars kicking you in the face again. 'Wheels of Fortune' is a cool blues workout that comes on like old-school AC/DC's 'Night Prowler'. Then, like a train coming off the rails, the song shifts into high gear! Great stuff! Black River Sons have produced one of the best southern rock albums in recent years!
The Outlaw Orchestra – 'Powercut'
England's great Outlaw Orchestra are back with their unique brand of southern rock. This is mostly an acoustically-based affair, but it still rocks, if you know what I mean. 'Rattlesnake Sour' is a footstompin' song that wouldn't be out of place at one of those kick-ass southern hootannays! 'God Knows, which is a re-working of an older tune,' is a pure old-school Nashville country song with some pedal steel in the mix. I really love the banjo-led 'Chicken-Fried Snake'; definitely one that'll have you shaking your ass and clapping your bands! The laid-back 'Got it Made' brings to mind Blackberry Smoke's 'Southern Ground Sessions' album; just a simple, cool, mellow acoustic/country song that'll have you humming for weeks. 'Back to Georgia' is another one of those head-nodding hand-clappers. The boys lay out some great picking on this one! It's the perfect musical landscape for a lazy summer afternoon resting on the hammock!
C.C. Rocktrain – 'Fast way of Living'
Go figure – another excellent southern rock band that releases only one output and then, inexplicably, disappears. These North Carolinians created a sound similar to Blackfoot, Skynyrd, and Molly Hatchet. The production is a bit thin, but that southern sound comes through loud and clear! There's a bit of Hammond, nice harmonies, some piano, and oodles of righteous guitar playing. 'Whiskey in the Pail', 'Bad Love', the title track and 'Rock and Roll Satisfaction' raise the roof! Not sure why this train went off the rails so soon…
Southern Outlaws Band – 'Southbound Train'/'Louisiana Water'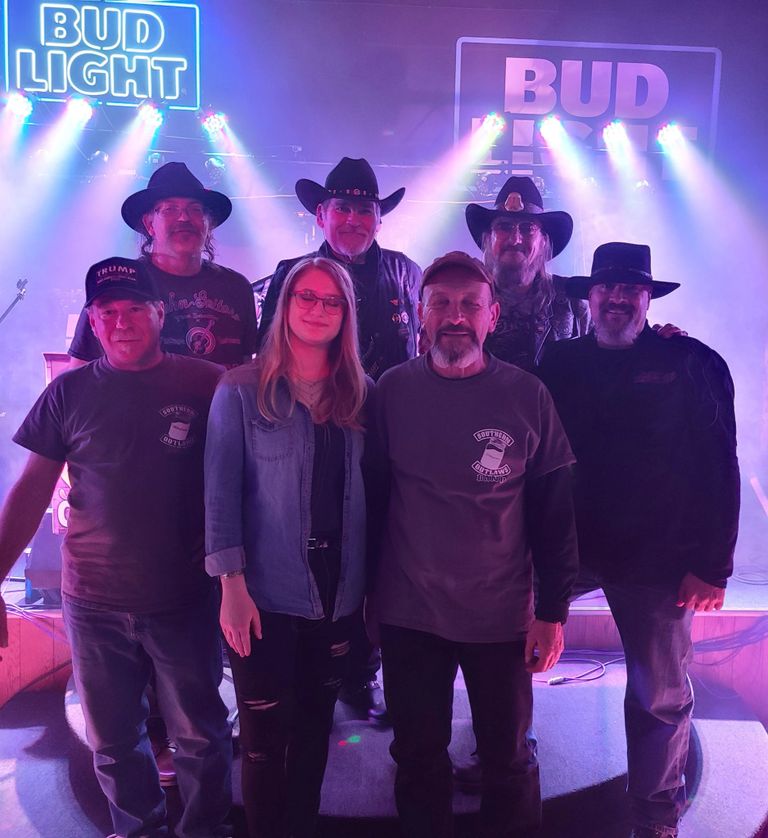 Ohio's Southern Outlaw Band have two singles out to date and both are spirited southern rock romps. Their first release, 'Southbound Train', is quite good, but their most recent output, 'Louisiana Water', is even better. While there are elements of The Outlaws, Louisiana Leroux and Molly Hatchet, they've got their own identifiable sound. Arlis Walker and Jenny Layfield are a formidable vocal duo. And Bob Furda's leads have a Duane Roland sound to them. I can't wait to hear more music from this upstart southern rock band!
Whiskey, Stills, & Mash – 'Southern Grooves: The Leadbelly Sessions' and 'True Grit Southern Soul'
Whiskey, Stills & Mash's two albums offer a lot in terms of southern/classic rock diversity. They move effortlessly from hard rock to Americana to acoustical pieces. I hear some Rebel Storm, Rebel Pride, Blackfoot and Black Crowes in their sound. You can hear the influences of the Appalachian Mountains, where they're from, loud and clear as well. There are so many highlights from each album: The Hammond and guitar-filled 'Blood Mountain', the BBS-like 'The Grind', the heavy riffing of 'Southern Groove', the breezy 'Summer Jam', the boogie of 'If I ever get to Memphis', etc. An up-an-coming band definitely worth checking out!
Betts, Hall, Leavell, and Trucks – 'Live at the Coffee Pot – 1983
BHLT, featuring Dickey Betts, Jimmy Hall, Chuck Leavell, and Butch Trucks, formed this southern rock supergroup back in 1982. The Allmans had split up and Wet Willie was on hiatus. Sadly, BHLT never recorded a studio album together, but they gave us this incredible live release. Jimmy Hall's soulful singing and great sax playing were in top form, as was Leavell's keyboard playing; so reminiscent of the great Billy Powell. And who was better than Trucks at laying down that patented beats? But, the undeniable star of this band and this recording was the great Dickey Betts! His vocals, as always were so warm and inviting, but it was his playing that was just superb. The 14 tracks range from blues to gospel to pure southern rock. We get three cuts from the Allmans, 'Jessica', 'Ramblin' man', and 'Southbound', all of which are excellent. It's the lesser-known pieces that really resonate including the driving shuffle called 'Whole lotta Memories' with a great sax solo from Hall. 'Lorraine', with Betts' great slide playing', is another barnstorming song. Then, there's the funk of 'One track Mind' and the sublimely poignant 'Rain' with hall on harp. Want some country picking? Look no further than 'Pick a Little Boogie'. Danny Parks really lets loose on the fiddle here! 'Stop Knocking on my Door' is another bad-ass shuffle with Leavell's keys coming to the fore. 'Rollin', possibly the best cut herein', is a pumped-up blues number that veers into southern rock territory. 'I Believe in my Soul' comes on like the Allmans jamming with Wet Willie; a fast moving shuffle that rocks! Trust me, 'Live at the Coffee Pot' is one of the best live albums you'll ever hear! It's a shame that not better known.
Snakebite – American Heart – 'Southern Soul'
To my knowledge, Maryland's Snakebite (not to be compared to the blues/rockabilly band of the same name) only put out two recordings; this one and 'You'll Never Play here Again'. I have them both and they're quite good. Go with this one first, as it is the better of the two. 'Wheels' is a great opening track that incorporates a lot of cool piano and some tasty harmonizing guitars. 'See ya' starts with a slinky harmonica and guitar intro before the band kicks in with a chugging rhythm. The title cut is Molly Hatchet-like song with a heavy riff and some neat slide. 'You'll never Play here Again' (the title track off their debut) is a revved-up blues rocker with some neat ivory tinklings courtesy of Kim Reynolds. We get more Hatchet with 'All Mashed up'. The harp playing is spot-on here. More great slide adorns 'It's your World', while 'Hillbilly Rocket' is just that; a boogie rocker straight out of the deep south. Saving the best for last, 'Party in the Parking Lot' is a guitar-driven piece that makes you want to cruise on the open highway. A lost lost gem from a band that quit too soon!
Broken Vessel – Southern Fried Rock & Blues'
This 1996 recording is the only one from an excellent Christian southern rock group out of, I think, Rochester, New York. Interestingly, every song is derived and inspired by a specific verse(s) in the Bible. That's interesting and original! The music is standard southern rock and blues with great guitar playing and some admirable vocals from Richard Morris. The standout cuts are 'Whatcha gonna do?', 'Hellbound Train', 'Check Mate', and 'When it's said and Done'. The best cut is the last with the slide-heavy and funky 'Crossways'. Yet another case of a band packing it up way too soon!
The Drugstore Gypsies – 'Easy Access'
This Texan band has two albums out so far and both are really good, though I'd give the nod to 'Easy Access', their sophomore release. Remember Jimi Jamison's old band Target? They were a rocking band out of Memphis, Tennessee. The Drugstore Gypsies sound similar to them in both song structure and their lively sound/production. I'd throw in another Memphis band called Tora Tora in the mix too. Anyhow, 'Easy Access' has ten songs that move effortlessly from hard rock with a southern vibe, hair metal, and classic rock. If that's in your musical wheelhouse, then you'll love these guys. 'Never Settle', 'Comin' Around', and 'Right on the Money' are three of roof-raising tracks that you've got to hear!
Rossington-Collins Band – 'The Outtake
Of course, we all how great the post-Skynyrd band The Rossington-Collins Band is! Gary Rossington, Allen Collins, Billy Powell, and Leon Wilkeson carried on and formed this great group. Barry Lee Harwood and Derek Hess joined on guitar and drums, respectively. The bright new star here was the inimitable Dale Krantz. Her voice was strikingly similar to that of the Janis Joplin; raspy, sultry, emotive, and powerful. My assumption that is you're a southern rock fan, you already have both RCB albums. You may not have this hard-to-find gem though. These outtakes come from their first release, 'Anytime Anyplace Anywhere'. Mostly, the songs stay true to what we hear on the official record, but with some different leads and slight vocal inflection changes. The production, as you'd imagine, is still a work in progress; unrefined and thin, but the power of this band is still there. It's cool to have this, butt not really essential. For completists only.
Rossington-Collins Band – 'Live in Atlanta – New year's Eve 1980'
This is one shit-hot live (bootleg) release from a band that had risen phoenix-like out of the disaster of 1977. Gary Rossington, Billy Powell, Leon Wilkeson and Allen Collins never wanted to nor could they be a second Skynyrd. So, they went out and got an incredible guitarist in Barry Lee Harwood and an absolute gem of a lead vocalist in Dale Krantz. This album covers the tracks on the band's debut with energy and passion. 'Prime Time' the single, 'don't Misunderstand me', the rocking 'Sometimes you can put it out', and the gospel-tinged 'One Good man' killed in this live setting. The moment when the roof was raised was when Powell started playing the opening notes to 'Freebird'. With respect to Ronnie, the song was played without vocals (which was weird to hear) and, of course, culminated with that famous Collins-led jam on the back-end. The band would never sound this good again. Their second release, 'This is the Way', was good but could never match the power of the debut and this live recording.
Revelry – 'Dirty
Revelry is a brand new five-piece southern rock band from the great state of Tennessee. To date, they have one single out, 'Dirty', and it is a wonderful, guitar-oriented piece of southern rock gold. It has all of the trademark southern sounds; raspy vocals, cool slide, a driving rhythm, and a sticks-like-glue chorus; a recipe for success! I can't wait to hear some new music from these guys!
Natchez ' 'Live'
Next to the deep south here in the US, France is the southern rock capitol of the world! So many great bands have come from that great country! Natchez has been around since the late 80s are are seen as the progenitors of French southern rock. To date, they have 13 records out (includes live albums, comps and re-releases). While I really like 'Retour a la Source', 'Catch the Spirit', and 'Brut', it is this live recording that best represents a band in full-flight. They combine the best elements of Skynyrd, Doc Holliday and Molly Hatchet into a lethal dose of southern rock paradise! Songs such as 'Elle Est Partie', 'Globe-Trotteur', 'Rock 'n' Roll Bigouden', and 'Ronnie', all are excellent slices of great southern rock. The songs are sung in the band's native tongue, but please do not let that be a deterrent. The indigenous singing flows and complements the music perfectly. I hope these guys put out something new soon!
Flatman – 'Live at the Apollo Theatre'
Like Natchez in France, I think Flatman is the first high-quality southern rock band from Germany. Also, like Natchez, they really haven't put anything out in a while; and that's sad because they're really, really top-notch. This live record is quite good with raspy vocals, female backing vocals, and steamy guitar playing. The 13 songs on offer are all fantastic with four covers and nine ass-kicking originals. The best of the bunch are 'Better you Hide', 'Mama Told me', 'Damn Good Band from Dixieland' and 'The Revenge'. Of the covers performed, I love their renditions of Molly Hatchet's 'Sailor' and 'Big Apple'. They also tear up Danny Joe Brown's 'Edge of Sundown'. Like with Natchez, we definitely need some new music from these guys!
Drivin' Sideways – 'S/T'
in 1994, Mike Estes was asked to participate with Skynyrd on the 'Endangered Species' acoustic album. His time with the band was short-lived though. That didn't slow Estes down. He bit back hard with the great Drivin Sideways band. They recorded one southern rock masterpiece, which was tribute album to NASCAR. These songs really lift up and epitomize what NASCAR is all about; it goes hand-in-hand with what southern rock represents. If you're familiar with Estes' current band, Skinny Molly, this isn't that dissimilar to that group. The best songs herein are the pacey 'That's just Racin', the rockin' 'NASCAR Diehards', the heavy' The Intimidator', and 'The Ballad of Junior Johnson', which features Ed King on lead guitar. if you haven't picked up this album yet, you should do so – great stuff!
Allen Collins Band – 'Live at the Lone Star – 1983'
I think this only live recording from the Allen Collins Band and it comes from the Lone Star in New York City. It feature songs from his only solo release, 'Here There and Back', as well as four Skynyrd tracks. The songs are well-played, but the production (quite likely an audience taping) is lacking. Nonetheless, it still captures a group in fine form. They open with 'Just Trouble', a funky number with some excellent soloing from from Collins and Powell. Guitarists Barry Lee Harwood and Randall Hall were also spot on. 'Workin' for the MCA' was next and rocked just like the one on 'One More form the Road'. 'Chapter one' and 'Ready to Move', both from the solo album, are great with the former a southern ballad and the latter a racing southern rocker. Surprisingly early in the set, we get 'Sweet Home Alabama'. Of course, it's great! Four more cuts come from that great debut with the balladic 'One Known Soldier', the bad-ass 'Hangin' Judge', the best piece on 'Here There and Back with 'Commitment', and the cool southern swagger of 'Time after Time'. That just leaves 'That Smell' and, of course', 'Freebird'. The song was performed without any vocals out of respect to Ronnie, Steve and Cassie. For me, the star of this show was the incomparable Jimmy Dougherty. His singing was amazing. How this guy didn't get the accolades he deserved remains a travesty. Sadly, Dougherty didn't record that much, but in addition to singing with the Allen Collins Band, you should check out Alias' 'Contraband' and Alias 'Live at the Agora 1979' where Jimmie sings with the great Jo Jo Billingsley.
The Boyzz – 'Too Wild to Tame'
The Boyzz were a hard rockin' band biker band from Illinois. They released the iconic 'Too Wild to Tame' back in 1978 and it combined the classic 70s hard rock and Foghat-like boogie with a southern rock vibe. Close comparisons would be The Godz and The Four Horsemen. The opening cut and single is the raucous biker anthemic title track. It's one of those cruising open road songs; surely a first cousin to Steppenwolf's 'Born to be Wild'. 'Wake it up, Shake it up' is another fast-paced rocker with some cool keyboards courtesy of Anatole Halinovich. he also shines on the piano-led boogie of 'Shady Lady'. This band, however, belonged to vocalist 'Dirty' Dan Buck. His raspy, distinctive voice was tailor-made for this type of music. Riding on the dirty southern rock-like guitar riffing of Mike Tafoya, 'Back to Kansas' is a killer boogie cut. 'Destined to Die' is pure 70s hard rock/metal with a galloping, punchy bass riff from David Angel. The energy of 'Lean 'n' Mean' is off the charts with a cool chorus that'll have you humming for days. The last song, 'Good Life Shuffle' is just that. it comes on like a deep southern rock piece with gospel/50s rock tinges – simply brilliant. 'Too Wild to Tame' was the only record the band would release. 'Dirty' Dan Buck is still out there touring the mid-west club circuit still tearing it up.
The Godz – 'S/T'
The indisputable pride of Columbus, Ohio, The Godz were, like The Boyzz, dirty, biker rock with overt southern rock influences embedded within their sound. Produced by the great Don Brewer (Grand Funk), every track herein is pure gold. Led by vocalist/bassist Eric Moore (RIP), these guys were the real deal. Even when this album was released back in 1979, these guys looked likethey had been on the road way to long and had consumed copious amounts of Jack and Coke. Anyhow, the first three cuts, "Go Away', 'Baby, I Love you', and 'Guaranteed', are all first-class southern/biker songs. However, it was the band's biographical anthem, 'Gotta Keep a Runnin', that raised the roof. This track is a stone-cold classic. 'Under the Table', 'Cross Country' and the Golden Earring remake 'Candy's Going Bad' are all lengthy guitar-driven, heavy-as-hell workouts. There are no fillers on this album. The Godz put out another record, 'Nothing is Sacred', and it flopped. Many of us fans were expecting the same style of music that the debut gave us, but Moore chose to go for a traditional-sounding 50s type of rock album. It wasn't bad, but it wasn't The Godz we all fell in love with. I'm not sure whatever happened to Bob Hill (guitars) and Glen Cataline (drums), but Mark Chatfield would become a member of Bob Seger's touring band. Another one of those classic, one-and-done records.
Highway Ryders – 'Faith, Pride and Justice'
This supergroup, that consisted of former members of Iron Butterfly, The Bulletboys, and The Jimmie Van Zant Band, released only one album to date and it is a superb slice of southern rock. There's a second record in the can, but I don't think it was ever put out. 'Faith, Pride and Justice is a classic southern rock masterpiece with ten high-quality songs that are reminiscent of Molly Hatchet, Doc Holliday, and Blackfoot. This is a tough sounding album with songs such as the title cut, the hard 'Tail Lights', the harp-boogie of 'Dead man's Hand', the atmospheric and slide-filled 'Runaway Train, and the cruising 'Highway Ryder' are dominant and resounding pieces. It's such a shame that Highway Ryders are dormant because 'Faith, Pride and Justice is one of the best and purest southern rock albums ever – a classic.
Judge Parker – 'S/T'
Arkansas' Judge Parker released three albums, their self-titled' debut, 'Along for the Ride' and 'Sound Medicine'. For me, their debut is the best. Larry Pearson and the guys can pen a great southern song, for sure. The guitars, keyboards, and inobtrusive fiddles mesh together nicely. Within it are ten great songs that move effortlessly from the Allmans ('She Still Does'), to Little Feat (Louisiana Rain'), to Skynyrd, to The Marshall Tucker Band ('Sweet Delta Water'). While every cut resonates, the best song herein is the amazing and driving 'Slow Down Irene'. The production is warm and inviting, complementing the music perfectly. I believe the band is still an entity, but they've not anything out since 2014's Sound Medicine'. I wish they'd lay down some original material because they are that good.
Eat a Peach – 'Bound to Shine'
Simply put, 'Bound to Shine' is one of those 'must-get' records. Every southern rock fan should own a copy of this great, great album. They pattern their music, of course, after the Allman Brothers. The strong vocals, nice Hammond playing, gospel and blues touches, and twin guitar harmonies reek of the Allmans. They refer to their sound as 'swamp rock 'n' Boogie', and that's exactly what it is. While their first album, 'Turbulence and Thunder', is almost as good, 'Bound to Shine' is where the group's sound really comes together. 'Rollin' Away' is one of those 'get behind the wheel and coast' tracks. Their cover of the Allman's 'Ain't Wastin' Time no More' is excellent, but it's the original stuff that really shines. 'Pursuit' is an awesome instrumental that belongs on any early Allman's album. Yes – it's that good; the Hammond solos, the harmonizing guitars, the jazzy rhythm changes, etc. 'Rebel (Southern Boy)' is a rock/funk number that, again, was made for the open road. Really though, every song is top-notch. I know this may be blasphemy to some, but this album is as good as any Allman Brothers record. I kid you not. To all southern rock fans, get this album now.
Jimmie Van Zant Band – 'S/T'
The ultra-talented Jimmie Van Zant (RIP), cousin of Ronnie, Donnie, and Johnny, Jimmie blessed us with four great albums, with this one being his best. While his other releases, 'Feels like Freedom', 'My Name is Jimmie', and 'Cut from the Same Cloth', were more outlaw country, 'Southern Comfort' is a full-on southern rock classic. Jimmie, to me, sounds most like Johnny and the album itself comes on more like Molly Hatchet than Skynyrd of 38 Special. It is a lively affair with the likes of 'Get Up', the title cut, and 'Party in the Parking Lot' blasting through the speakers with reckless abandon. And the band's cover of Skynyrd's 'Simple man' is as good as the original. Guitarists Ron Conkin and Billy Royce complement each other perfectly, very much in the same way that Allen Collins and Gary Rossington did (of course, none can compare to those two southern rock gods though). If your taste leans more towards outlaw country, check out Jimmie's other albums, but for pure southern rock bliss, 'Southern Comfort' is it.
Ron Keel Band – 'South X South Dakota'
Ron Keel is best known for his 80s hair band Keel. But, underneath the hairspray, spandex, and bandanas, I knew there was a southern rocker in there somewhere. When hair metal died out (thanks to Grunge), Keel switched gears and formed Ironhorse. They released two decent albums, but where keel hit his stride was on his solo album 'Metal Cowboy' where he adroitly merged metal and southern rock. His best southern rock record, however, is this covers album. He tackles many legendary southern rock hits from the 70s with aplomb, with the best being 'Rossington-Collins Band's 'Don't Misunderstand me', Molly Hatchet's 'Flirtin' with Disaster', and Skynyrd's 'Red, White, and Blue'. His voice is in fine form as well. This is one if the best southern rock covers album out there.
Louisiana Swamp Donky – 'Redneck Revival'
Want some brusque vintage Blackfoot-style southern rock? Look no further than Louisiana Swamp Donky. These guys walk it like they talk it. They and Tennessee Champagne are a part of the new breed of hardened southern rock that is kicking serious ass. The lyrics herein, as a whole, pay homage to their southern way of life and the only life these boys know, as 'Southern way', 'Dirt po' (Redneck Rich)', 'Home', and 'Redneck Revival' exemplify. I can picture these guys rocking out in some backwoods, ragged barn with moonshine at the ready. In addition to 'Redneck Revival', they have a new-ish single out as well entitled 'Southern Home'. and it is hard as nails too.
Redneck Roots Band – 'I Pied D'en Faire'
One of the great French southern rock bands out there, Redneck Roots Band sound like they're from Georgia or Florida. Their sound is an amalgam of Doc Holliday, Molly Hatchet, and maybe some Skynyrd and early 38 Special as well. Vocalist Bruce Valluet's raspy, tough voice sounds like it's been soaked in whiskey. The triple guitar team of Renald Houze, Christian Epis, and Morgan Vaucaire (who plays some mean-ass slide) are excellent. Really, every cut on the album bristles and drips with southern rock goodness. Bruce recently sent me some tracks that were recorded live at a French radio station and they are amazing; even better than what's on this album! My hope is that they will be released soon so the public can hear them!
Sam Hill Band – Bringing it Back Home'
A brand new excellent band from the sacred southern rock town of Jacksonville, Fla., 'Bringing it back Home' is pure old-school southern rock done properly. The nine songs herein are as good as it gets. As they say, something must be in the water down there! There are elements of early Skynyrd, Molly Hatchet, and others. The production is warm without the use of overdubs and studio trickery. I can't see these guys using Pro Tools, that's for sure. I imagine them facing each other in the studio, plugging in the amps, and rocking out. 'Better man', the title cut, and 'In the Water' are as good as it gets. Ray Jett's singing is raspy and authentic, while guitarists Dusty Barber and and Duane Johnson complement each other perfectly. I'm not sure which is playing slide, but it's fantastic! A great debut!
Christopher Shayne – 'Ten High'
I stumbled upon Christopher Shayne's first album, 'Turning Stones' last year and have been a fan since. His hard-nosed southern rock is a cross between old Blackfoot, Blackberry Smoke, and even old, Bon Scott-era AC/DC. His new record, 'Ten High', is even better than his debut. 'Pour the Bottle' has one of the greatest riffs you'll ever hear and it'll rip your throat out! Damn! It's one of the best southern rock songs ever – no kidding! And the slide playing courtesy of Dave Lansing is amazing. The title cut is pure magic too with some righteous riffing. Shayne's vocals bring Alter Bridge's Myles Kennedy to mind. 'Getaway Baby' employs yet another cool riff and there's some nice Hammond organ in the mix too. 'Any Given Sunday' is a funky number that comes on like Little Feat. 'Give a Damn' rocks hard and hits right between the eyes. You need to get this album!
Tennessee Champagne – 'S/T'
Another great debut from this band born in the Appalachian Mountains. I'd put these guys in the same box as Louisiana Swamp Donky. Their songs have an inherent southern grit to them, while retaining a fine mix of melody. The opening song, 'Wicked' demonstrates this balance perfectly. 'Thunder on the Mountain' rocks while, paradoxically, 'Can't get Over you' is the perfect southern ballad, as is 'Stompin' Grounds'. The band's first single, 'Shake it', is an ass-kicking, raise-your-fist-in-the-air kind of cut. While this debut is awesome, I can't wait to hear what they come up with next. I'm sure it will be something special!
Copperhead County – 'Brothers'
Man, do these guys remind me of The Outlaws; the vocals, song structures, the Fender guitar twang – Copperhead County have it all! They have an EP out and, this, their debut full-length. 'Be Different' is a great opening track and would make a great single. Just check out the amazing guitar playing on the title track. If it doesn't remind you of the Hughie Thomasson, then nothing will. And vocalist Corvin Silvester's singing has a down-home, smoky feel to it. To me, the best piece on 'Brothers' is 'Horizon'. Everything just meshes so well here; the female vocals that wash over the listener, some great Hammond playing from Jordy Duitscher, and those flowing and harmonizing guitars. Robert van Voorden is one of the best southern rock guitarists I've heard in a long while (give a listen, also, to the instrumental entitled 'Tskaro' if you need any additional proof of how good this guy is!). I love the rousing 'Pacific Street' and 'With you Again'. 'Southern Feeling' closes off an immaculate release. Keep an eye and ear on these guys!
Georgia Thunderbolts – 'Southern Rock from Rome'
Southern rock from Rome, Georgia, these guys have gained a lot of traction in a relatively short time. This debut and a new EP released a few months ago are both excellent. The Thunderbolts are all about playing timeless southern rock with a contemporary twist. Their influences range from Neil Young to Blackberry Smoke and everything in-between. The album starts off with a great one-two punch of 'Be Good to Yourself' and 'Lend a Hand'. 'It ain't Easy' sounds like it was recorded back in 1940 and the utilization of some funky slide and female backing vocals make this a very special song. 'Can I get a Witness' rocks, while 'Dancin' with the Devil' is a slinky Skynyrd-like number. The last cut is the best. 'Set me Free' is a seven-minute masterpiece filled with light and shade. The 'S/T' EP is just as good!
Diesel Dust – 'Lily'
Another great band from France, Diesel Dust put out two very good records with 2006's 'Ghost Dance' and 2010's 'Second Life'. They also released an EP in 2010 entitled 'Lily' and, to me, it's their best work to date. There are five cuts with the title track coming first. It starts with some exquisite guitar harmonies before settling into a cool country ballad. The chorus is pure gold. On the back-end of this cd, we get an elongated version of 'Lily', which incorporates a cool-as-hell lead that closes this piece perfectly. 'Devil Inside', equipped with some great harmonica throughout, brings to mind one of those lengthy Molly Hatchet songs that builds and builds. 'Whiskey Drinkin' Man' is the best cut herein with a swampy feel to it. It looks like the band is poised to release a greatest hits album and a new album should be ready by this May.
Simple Southern Boys – 'All Revved up' and 'Eyes on the Prize'
They call their music 'Swamp Rock' and who am I to disagree! These two recordings are as genuinely southern as it gets. The debut, 'All Revved up' is full of southern goodness. Opener, 'All Revved up', just makes you want to hop on your Harley and cruise the open road. Truly one of the best songs ever in the southern genre. Vocalist Deryle Hughes' singing is very convincing and his slide playing is wickedly good. 'NASCAR Woman' continues the brisk pace, while 'Diamond Back Rattlesnake' is a slinky number with, again, some cool slide playing from Hughes. This track reminds me of the great Skinny Molly. 'Wild Southern Boys' opens with some neat dueling slide and piano before the heavy riff takes over. Need some old-school Blackfoot? Check out 'Bad Attitude'. Their sophomore record is even better with 'Harley Nation' kicking some serious southern butt! I love the Hammond stabs that battle the heavy riffing. the driving 'Lost in Life' rides on the nimble bass playing courtesy of John Bell. 'Family man' is a great southern ballad with some excellent slide and, I think, a mandolin guitar! We even get some southern metal here with the title cut ready to stomp. Next to 'Harley Nation', 'Fla. Boogie' is the best piece herein. It's a boogie riff you've probably heard a thousand times before, but it sounds so good in the hands of the Simple Southern Boys! Hughes has gone through some serious medical procedures, but looks to be back on track. I pray that is the case!
Creed Fisher – 'The Wild One'
It seems like some country performers are slowly, but steadily moving into southern rock territory. I think that a lot of it has to do with Blackberry Smoke's ever-growing popularity. Texan Creed Fisher's previous records were steeped in country, but ' The Wild Ones' puts one step into southern rock territory. Fisher's vocals still retain those country inflections, but the music comes on like Skynyrd, Molly Hatchet and others. Take a listen to 'More than One a Year', the title track, 'Bad Girl', and 'Where the Whiskey still Flows'. They rock! And Fisher's cover of Skynyrd's 'Still Unbroken' rivals the original. My hope is that Fisher continues to move even more into southern rock terrain because this stuff is better than anything else he's ever done!
Silver Travis Band – 'Traveler'
South Carolina's Silver Travis Band have three albums out with 'Traveler' their latest and best. They mix a somewhat hard-edged southern rock sound with a more countrified Marshall Tucker Band style. I'd even go as far as to say there are The Band influences in the grooves as well. I really love the opening track 'Spirits in the Hill'; the music and story are indigenously sublime. Hearing 'Sweet Carolina'…let's jut say I yearn to get back there as soon as possible. The song is indicative of how great that State is. After a couple country ballads, we get crankin' again with 'You Lie'. And then we get the funky 'Waitin' on my Ride' with some horns that fill out the sound nicely. I love the guitar and keyboard lead interplay too. 'Lesson Learned brings Wet Willie to mind, while 'Long Gone' is simply the best cut herein. It is a cool, cruising track; you know the type – top down, hair blowing in the wind while heading down the highway doing 80 mph. 'Chain Gang' starts with a sizzling lead before a killer riff kicks in with some harmonizing guitars and Hammond stabs as well. Here you go! Yet another excellent band from the great State of South Carolina!
Scooter Brown Band – 'American Son'
So, you know a band is special when Charlie Daniels guests on vocals! He and Scooter trade off on vocals on the great title track. This song bleeds red, white and blue! Brown is quite the man too. This Marine served his country for almost five years and saw combat in Iraq! This guy is the real deal and loves this great country of ours! His music is best described as modern southern rock, and that sounds about right. 'This Town', too, rocks with a scorching riff and a to-die-for chorus. There's some great slide and piano in the rocking 'Won't back Down'. The seven-minute 'Georgia' is one of the ballads you'll ever hear. The lyrics, I'm sure, will resonate with a lot of people out there who are still looking for work in this time of Covid. 'Guitars, Guns, and Whiskey' is a typical southern song that moves along, but it's the rollicking 'Rise up' that hits the spot. This one will go sown well in the live setting! I love the Little Feat-like 'New York City King Size Rosewood Bed'. The last cut, 'Huntsville', is another stellar song about a cheating woman who was killed for her indiscretions. Yep – the guy ended up in a jail in Huntsville, Alabama. I love the intense Molly Hatchet-like guitar rave-up on the back-end of the track! I believe Brown's almost done with his follow-up album – I'm sure it will be great!
The Big Swamp – 'Heavy Duty'
Germany, as far as music is concerned, is all about metal. But The Big Swamp are the antithesis of that. They fuse Delta blues, southern rock, and swamp rock together for an earthy, almost primitive sound that is heavy on slide guitar. I can hear wide-ranging influences from Junior Kimbrough, RL Burnside and Jimbo Mattheus to Status Quo, Piledriver, and Foghat. It looks like they have two full-length albums out plus a few EPs. This album is their best and is full of some insane slide playing from Jan Strobel. This guy is fantastic! Every track is a winner, but I'd say 'Sweet Whiskey' and the title cut are a step above the rest. A definite must for southern rock and hard/primitive blues fans.
Ole Whiskey Revival – 'S/T'
Like Louisiana Swamp Donky, Tennessee Champagne, Sam Hill Band, and the Georgia Thunderbolts, Ole Whiskey Revival is as authentically southern as it gets. These guys are from Louisiana and specialize in classic southern rock with a sound and production straight out of the 70s. Alex Troegel's homegrown vocals straddle the southern/outlaw country stylings with ease, and there's a slight Dickey Betts tone to his leads. Songs such as 'The Legend of Jack Savannah', 'Crescent City Blues', and 'Ramblin' have such a natural, rocking feel to them. Ole Whiskey Revival's music is best seen and heard, I reckon, in some old backwoods barn by a murky green swamp with the amps turned up to Ten and Jack Daniels flowing freely! There seems to be a southern rock resurgence out there!
Southern Rebellion – 'Southern Man'
Southern Rebellion are from Johnson City, Tennessee. I have such fond memories of that city. Back in 2000, I saw Black Molly (I think this was one of their only gigs) at The Freedom Hall. They were a southern rock supergroup that had Charlie Hargrett, Jimmy Farrar, Randall Hall, Shawn Beamer and others in the band. They ripped through a series of great southern rock covers – a show that I'll never forget! Anyhow, on to another great band in the making! Southern Rebellion's 'Southern Man' is an amalgam of southern rock, blues, and outlaw country. 'Trouble', the album's opener, is just a bad-ass, swaggering kind of track, while the follow-up cut, 'What's goin' on' is another barnstorming piece with a cool riff and some excellent Hammond organ that fills things out nicely. 'Complicated' is one of those slinky country songs that, again, has an undeniable swagger to it. There are a couple cuts that should get some serious play on the country charts; 'How a Heart gets Hurt' and 'Me and You'. I prefer the rocking stuff though, like 'Comin' on Strong', The title track, and 'Get Down'. If you like homegrown Tennessee southern/country rock that is pure and genuine, look no further than Southern Rebellion!
Righteous Hillbillies – 'Playing with Fire'
Illinois's Righteous Hillbillies are back with their fifth full-length album and it remains in step with their previous albums; good-time southern rock with plenty of guitars, Hammond organ and excellent vocals. The title cut would make a great single. It's one of those songs that begs to be heard while cruising on the open road with the top down allowing for the summer breeze to caress your face. 'Desolation Row' is a simple, but effective piece that you'll be humming for days. 'Don't Water Down my Whiskey' is a nice southern type ballad, while 'The Hardest Part' and 'Give me one' come on like a couple Tom Petty tunes. 'Bad Love' incorporates some cool horns, which complement a middle-of-the-road type song with another inescapable chorus. 'Talk to me' is, for me, the best track herein; a fast-moving rocker with some tasty axe-playing. The last piece, 'Six Feet Under', is a gospel-tinged song with some excellent lead piano and guitar exchanges before the vocals wash over you; a great way to end an awesome record!
Ma Ferguson – 'Texas Rebels'
Southern rock Texan style! I'm not sure what happened with these guys, but after this amazing four-track EP, which was released way back in 2000, they disappeared off the radar. That's a shame because this album is damn good! There are two originals, 'Saints and Sinners' and 'Southern Ladies', and two cover tunes; The Allman's 'Good Clean Fun' and Skynyrd's 'That Smell'. This three-guitar-attack band patterns their style after the aforesaid bands, but add their own indelible touch to the tracks herein. 'Saint's and Sinners' is a hony-tonk kinda tune with some incredible slide throughout. 'Southern Ladies', too, is dominated by some great slide playing and has that ol' Skynyrd feel to it. The covers are good too! 'That Smell' is faithful to the original, but they really shine on 'Good Clean Fun'. Hopefully, you can find this long, lost piece of gold!
Lynyrd Skynyrd – 'Super Jam with Dickey Betts and Charlie Daniels'
The remaining Skynyrd members were still reeling and recovering from that horrific plane crash in October of 1977 that took the lives of Ronnie, Steve, Cassie, and others from us. In August of 1978, Gary Rossington, Allen Collins, Leon Wilkeson, Billy Powell, and Artimus Pyle were invited to participate in this 'in-the-studio-super jam' that also had Dickey Betts, Jimmy Hall, Charlie Daniels, and some members of The Outlaws in place. The eight songs are all loosely, but spectacularly done. They opened with one of Charlie Daniels' new songs called 'Jitterbug'; an up-tempo boogie piece. We would see it again on Daniels' 'Million Mile Reflections' album released in 1979. Next up was JJ Cale's 'Cocaine', which is far better than Clapton's version. And then we get another tear-jerking number from Daniels that lifts up the lives of Elvis, Janis Joplin and, of course, Ronnie. It, too, would resurface on his new album. With The Allman's 'Southbound', Dickey, Allen and Gary totally ripped on this great song! The gospel classic, 'I don't to go Down there' saw Dickey playing some incredible lead along with Billy and Taz DiGregorio laying it out on keys. Bonnie Bramlett, on lead vocals, demonstrates why she remains such a revered singer. 'Gospel Song' follows and is a slow gospel number. I think that's Jimmy Hall on lead vocals. 'Rhine Stone, written by David Allen Coe, is a pure country tune with Charlie playing some great fiddle! Finally, we get another Skynyrd-ized JJ Cale track with 'Call me the Breeze', which culminated in an insane jam on the back-end. You can find this gem on Amazon and, unbelievably, it's very affordable!